Welcome to Sullivan's Camp Cacapon.  After retiring from the US Air Force we settled down in Northern Virginia and began our second careers (as so many do).  With the hustle-and-bustle of the DC area (and the dreaded I-95 corridor), we had to find a place to get away from it all.  We absolutely fell in love with the Cacapon Valley and it's crystal clear, slow-moving, waters--as well as nearby Berkeley Springs with it's art scene, antique shops, spas and Apple Butter Festival.  Nothing more relaxing than spending time in the mountains, fishing, kayaking, and just kicking back. 
Sullivan's Camp Cacapon is more than just a campground, it is a place where families come together and lifelong memories are made! This campground is created by our family for your family. We hope you will enjoy it as much as we do! When we found this beautiful 8-acre property, we truly struck gold. Just 20 minutes from the Berkeley Springs, and in the heart of the Cacapon Valley, there is plenty of exploring to do on your next vacation to Sullivan's Camp Cacapon.
Our campground is the perfect place to kick back for a weekend getaway or to bring the whole family together for a special event! Bring your own tent, or rent out one of our cottages! Camp Cacapon brings a new meaning to camping. You will have all of the scenic outdoor vibes here, with a touch of luxury. Whether you stay for a weekend or a week, we promise that you will come back for more Camp Cacapon fun! We created Sullivan's Camp Cacapon so that we can share our little piece of heaven with you and your loved ones. As retirees from the US Air Force, our family spends a lot of time here and created this space to get away from the hustle-and-bustle of everyday life. We hope you join us on your next getaway!
Things to Do at the Campgrounds
Sullivan's Camp Cacapon has everything you could want on your next camping adventure and then some! Our campground is perfect for just the family or for a whole wedding party.  
The property includes: 
A pavilion, great for parties, events, and family gatherings

Fire pits, great for bonfires, and nights spent roasting marshmallows

Direct access to the Cacapon River–great for days spent on the water fishing, kayaking, and more 

Brand-new His and Hers Camp Restrooms with an outdoor open-air shower

Fresh spring water well with drinking fountain and spigot at the pavilion.

Two cottages, each housing up to 6 people (no restrooms or kitchens)

All campsites are shaded

One 42' long RV site with full hookups

Plenty of outdoor space perfect for cornhole and sports 

Trails for runs, and walks 

WiFi for those of you who like to stay connected 

Tree swings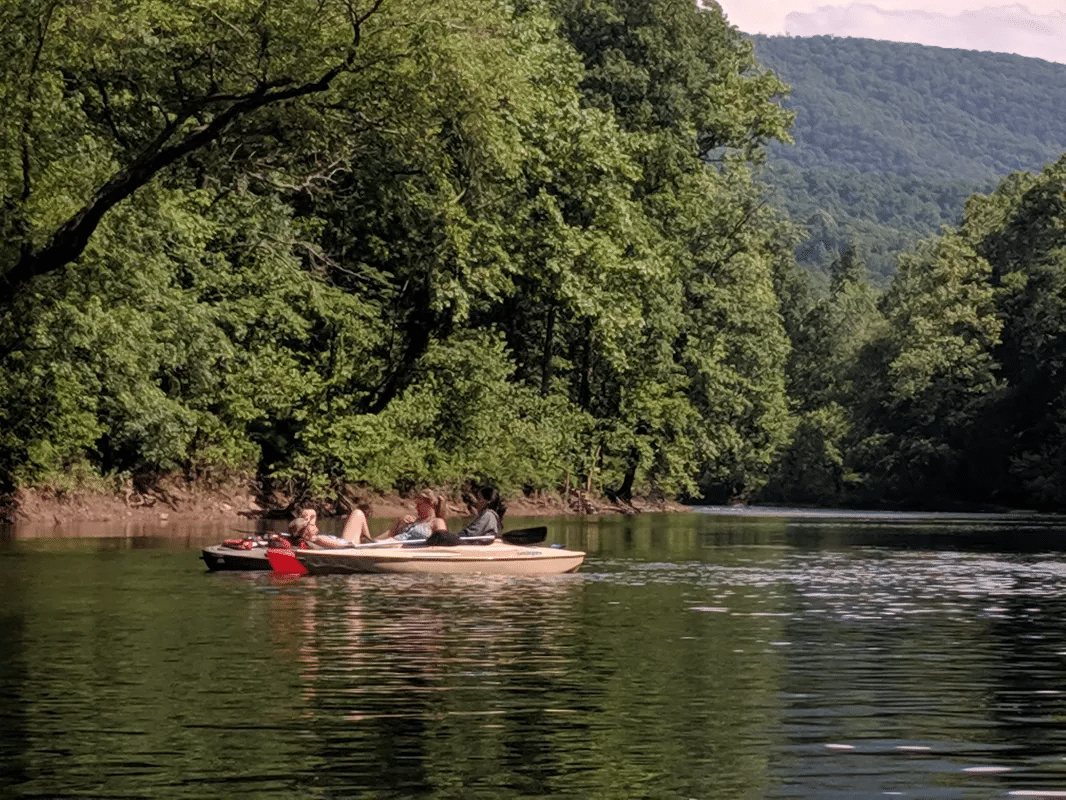 Come explore this hidden gem of the Cacapon Valley, located just outside the Berkeley Springs. Call the mountains your home for a weekend! We call them home almost every weekend. We renovated these campgrounds with the intention of creating a vacation spot that the whole family will love. Rent out one of our cottages, or bring your own tent and camp out by the river. During those warm summer nights, we even play movies in our pavilion! Come unwind and unplug with us at Sullivan's Camp Cacapon!